Soirée scientifique chiropratique #4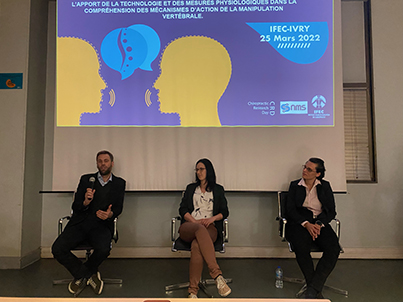 Retour en images sur la 4e soirée scientifique chiropratique, organisée le 25 mars 2022 par l'IFEC en partenariat avec l'Association Française de Chiropraxie, la Chaire de recherche internationale en santé neuromusculosquelettique et le Fonds de Dotation pour la Recherche en Chiropraxie.
Le colloque a réuni une soixantaine de chiropracteurs, étudiants en chiropraxie, enseignants et chercheurs dans les locaux de l'IFEC d'Ivry, ainsi qu'une centaine de personnes en ligne.
Six chercheurs de l'IFEC, de l'UQTR – Université du Québec à Trois-Rivières, de l'Université Paris-Saclay, du Madrid College of Chiropractic, de l'University of Zurich et du Balgrist University Hospital sont intervenus sur 2 grandes thématiques :
– L'apport de la technologie et des mesures physiologiques à la compréhension des mécanismes d'action de la manipulation vertébrale ;
– les prédicteurs et soins du dos dans les communautés mal desservies.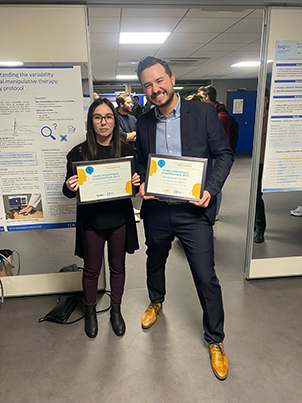 Parallèlement, un concours de posters scientifiques a été organisé pour les doctorants et jeunes chercheurs. Le prix du jury a été remis à Mariève Houle de l'UQTR et le prix coup de coeur du jury à Florian Barbier-Cazorla de l'IFEC.
Nous remercions l'ensemble des intervenants et des participants qui ont contribué au succès de ce 4e colloque international. Ce rendez-vous annuel vise à diffuser les connaissances scientifiques au sein de de la communauté des praticiens, des étudiants et des chercheurs mais aussi à renforcer les liens entre les différentes équipes impliquées dans la recherche en santé neuromusculosquelettique.